---
I heard a quote the other day, and it really got me thinking.
"If you want to change the world, start by making your bed."

-William McCraven
HAHAHA! No, it did make me smile, but I also thought, should I go buy a new comforter toady? AND we did, me and my fiancé marched right into Bed Bath & Beyond looking for a new, cozy (and also white) comforter that we could use until I seen another quote or picture about bedding. lol.
We had an idea, as mentioned, of what we were looking for… something like this: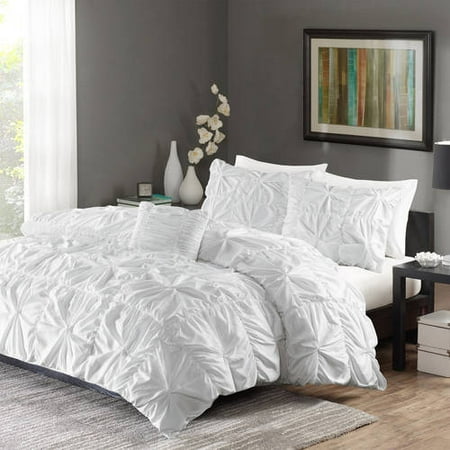 But, we went to Bed Bath & Beyond and we found a similar one but not as such pintuck pleats and we found one, and y'all!!! I loooooove it!
We got this one: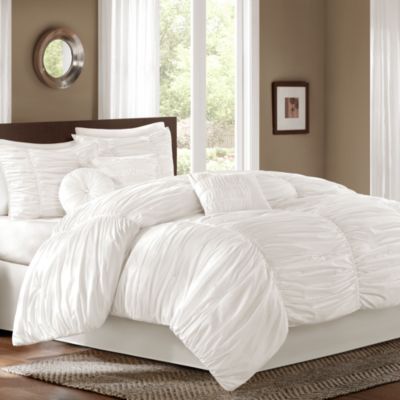 It's called the Sidney comforter set. It comes with the 1 Oversize Comforter, 2 Shams, 1 Bed Skirt and 3 Decor Pillows. So, all together 7 pieces! My overall opinion of it is, it's super cozy and it feels like a good material and it's one of my favorites!
(If you wouldn't want to spend that much on it, you can buy this one for half the price!)
Though the comforter comes with all those wonderful things, it doesn't come with sheets…. which we had extra white sheets that matched perfectly!
We also bought silk pillow cases because we heard they were perfect for your skin and we love when our pillow is cold! (Who doesn't?!) Which reminds me, we have these therapedic self cooling pillows that are kinda pricey… BUT, if you like your pillow to be cool when you fall asleep, they're worth it!
---
That's all friends :)
I hope you find this post helpful if you're looking for a new bed suit! I definitely recommend this "Sidney" and 100% is worth it!
–XOXO